Negative ions
After many measurements and research of quality products available in the world, our office ETUDES & VIE decided to import two brands of ionizers and air purifiers.
This is our range of high performance TEQOYA ionisers and air purifiers. After reviewing the existing ionisers on the market, we came to the conclusion that the French Teqoya range had built their reputation over the years on product quality and technological research. No ozone and nitrogen oxide emissions!
Discreet and silent, the TEQOYA 200 air purifier is ideal in a bedroom or office. It can be placed on the bedside table in your bedroom or your children's bedroom to enjoy the benefits of negative ions while you sleep. It effectively fights particles, allergens and bacteria in the indoor air. Lightweight and compact, it can also be taken anywhere you go.
The TEQOYA 450 home air purifier is ideal for use in social areas or reception areas. It fits perfectly in large rooms (living room, dining room, meeting room) where you like to relax and spend time. Its design allows it to fit into any living space. Without filters, it is easy to use and requires no maintenance. It is also very popular in medical and paramedical practices or dental offices.
The TEQOYA Nomad car air purifier goes everywhere with you and offers you clean air in your car. Filter-free and eco-friendly, it effectively combats pollutants, bacteria, viruses, allergens, cigarette smoke and odours in the cabin. Portable and discreet, the car air ioniser spreads negative ions evenly throughout the cabin.
These ionisers are also virucidal and bactericidal! (*)
(*) https://www.etudesetvie.be/news/coronavirus-ionisez-lair-interieur-avec-les-purificateurs-dair-teqoya/
With TEQOYA ionizers and air purifiers, enjoy healthy air!
Eco-responsible Purification
Treatment of ultra-fine particles (0.01 micro-meter)
Ultra low power consumption: 1.5W
Ozone free warranty
Continuous air purification 24 hours a day, 7 days a week
Totally silent: 0 dB
Maintenance-free: 0 filter
Fine particles and germs: neutralization up to 99%.
Against odours
Against moulds
Against animal allergens
Against pollens
Helps people with asthma
TEQOYA air purifiers are designed and manufactured in France for eco-responsible air purification: filterless, energy efficient, totally silent.
TEQOYA air purifiers recreate the conditions in which negative ions are created in the purest environments on the planet. These negative ions are true natural depollutants and, by purifying the air, benefit our health.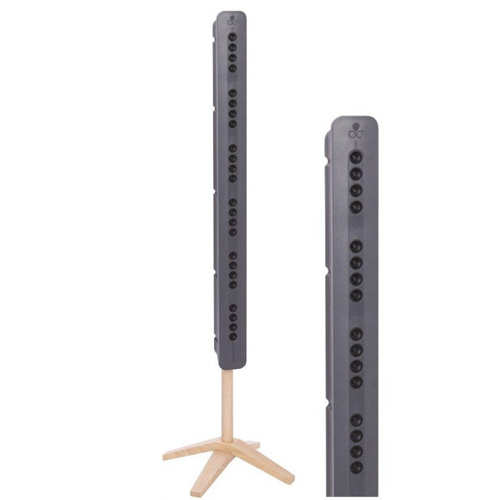 Our products
Browse our TEQOYA product catalogue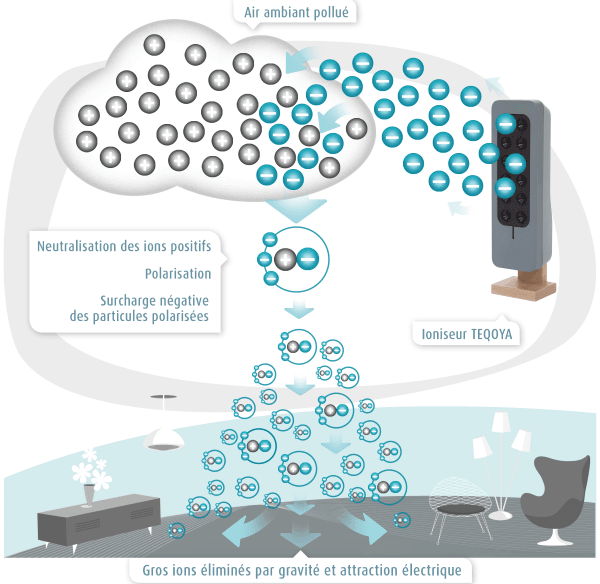 Scientific reference
Scientific publications on negative ionisation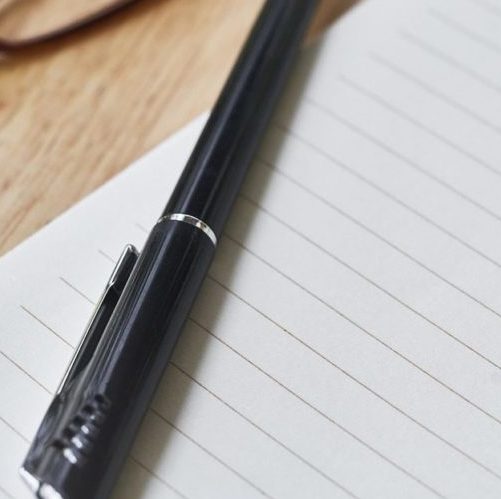 Our test
Check your ion sensitivity level with our test
Products designed in France in partnership with leading French laboratories.
TEQOYA ionizer air purifiers are all manufactured in the region of Bordeaux (France) and controlled in the production process and quality at each step.
In 2014, the entire TEQOYA team is committed to cleaning the air while respecting the environment. Their innovation is based on air ionization and patented technology, developed and improved over more than 15 years.
Their ionizers are the safest and most efficient on the market – they are 100% ozone and consumable-free, environmentally friendly, and offer continuous air purification, all in total silence.
Designed and manufactured in France with the highest quality components, our air purifiers are made to last – robust and elegant, you can install them anywhere. TEQOYA helps you build a healthy environment for you and your loved ones.
The brand name "TEQOYA" combines the notions of technology (tech.) and nature (Sequoia), while evoking healthy air. "TEQOYA" and "The air that brings health" are said in the same way in Chinese. TEQOYA purifies the air with its Tip and Sequoia purifies it with its needles.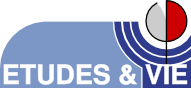 Authorised partner for TEQOYA products
32, rue du Bay-bonnet B – 4620 Fléron Belgium